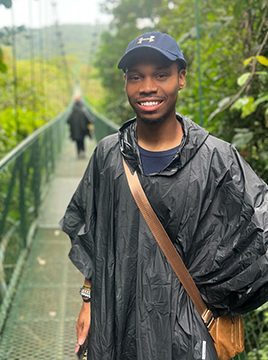 Martin Jackson, Community Forestry Planner, SC
Martin assists communities in planning for their urban forests with a focus on urban greening and community health in South Carolina. Martin has a passion for community engagement, environmental sustainability in design, educational insight, and revitalizing historically neglected BIPOC communities into illustrious, green, and sought-after communities. Prior to joining GIC, his career focused on municipal strategy and performance analytics, community engagement and volunteerism, and educational enrichment. He has also worked in elementary schools as Guest Teacher and Afterschool Instructor as well as with the City of Rock Hill, in their ADA Transition Plan where he worked on plans and ordinances and served on the African American Cultural Resource Advisory Committee. Martin has further experience in the financial sector, student publications, and recreational sports management.
During a senior trip to Costa Rica in 2022, Martin developed a solid and unwavering passion for the environment and natural conservation after planting trees in the Monteverde Cloud Forest, learning about Geothermal Hot Springs around the Volcano Arenal, and tasting and experiencing life-changing herbs and fruits found in the Jauri Tropical Forest. From there on, he privately pursued the foundations of his own garden and took steps to end food deserts in disadvantaged communities with the establishment of community gardens and community greengrocery stores.
He received his Bachelor of Arts degree in Political Science with double minors in History and Social Science from Winthrop University in Rock Hill, where he was also very active in the NAACP, the Council of Student Leaders, the Student Alumni Council, The Winthrop Voting Ambassadors, the Anne Springs-Close Scholars, and the Xi Phi Chapter of Alpha Phi Alpha Fraternity, Inc. His senior dissertation topic analyzing racism in housing and urban development practices first exposed him to the climate and environmental implications of a lack of trees and urban tree canopies in disadvantaged communities. He hopes to finish his Master of Public Administration degree at Troy University in Alabama in the next 2 years and receive his planning certification to be fully able to promote positive and green change in communities across the South. In his spare time, Martin loves to teach soccer lessons, play tennis competitively, swim, read, write, and listen to music.