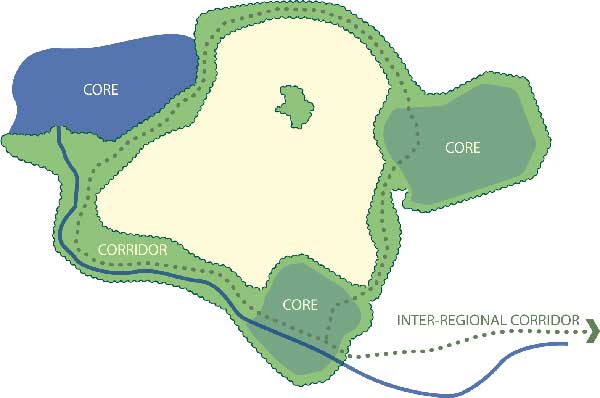 How Can You Engage in Green Infrastructure Planning?
Green infrastructure planning entails inventorying green assets, ensuring habitats are connected, and identifying opportunities for their protection and/or restoration, and developing a coordinated strategy to channel development and redevelopment to the most appropriate locations. For more on the definition of green infrastructure, see the About GIC page.
INDIVIDUALS:
Actions you can take to conserve your natural assets
• Plant trees along streams and shade trees for homes and streets.
• Minimize the use of paved or impervious surfaces so water can infiltrate and recharge aquifers.
• Plant native species of trees and plants.
• Establish non-mowed areas to increase habitat and water infiltration.
• Install bird boxes and bat houses in urban areas.
• For larger properties, employ conservation easements to conserve land and reduce tax burden.
• Work with your county forester or local extension agent to develop a management plan for your forest or farm.
• Make local government aware of the need to plan for green infrastructure and encourage them to create their own plans. See steps below!
COMMUNITIES:
Six steps for community green infrastructure planning
Step 1: Set Goals – What does the community value?
• Forests for wildlife and timber?
• Recharge areas to protecting drinking water supplies?
• Conserving historic landscapes and battlefields?
• Protecting and promoting working farms?
Step 2: Data Review – What do we know and what do we need to know?
• Research existing studies – what are the findings and are they relevant? (e.g. watershed plans, wildlife plans, open space plans, ecological inventories, groundwater studies, air studies etc.)
• What data are needed? (If using Geographic Information Systems you may need digital layers – data arranged spatially that can be overlain and compared.)
• Examples of data types include streams and watersheds, key agricultural soils, recreation routes, forested areas, wetlands, etc.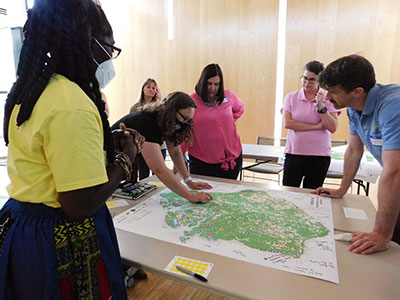 Step 3: Asset Mapping – Map the community's ecological, cultural and economic assets. What is mapped is based on goals established in Step 1.
Following are examples.
• Large intact forests or native meadows
• Large farms and farm communities
• Streams, rivers, wetlands and groundwater recharge areas
• Recreational areas (fishing, boating, hiking, biking, birding)
• Historic and cultural features (battlefields, historic landscapes)
• In urban areas, street trees, tree canopy and local parks, streams.
Step 4: Risk Assessment – Find out what's at risk and what could be lost.
• Which areas are zoned for development and do they overlap key assets?
• Are there forests which have been fragmented by roads or subdivisions?
• Which steams are impaired (or might be in the future)?
• Where are new roads planned – do they fragment key assets?
• Are there areas that are now impaired or lacking habitat that could be restored?
Step 5: Opportunities – Based on assets and risks, assess what can or should be saved? What could be restored? What will be developed? Engage the community in ranking key areas of importance. Map these opportunities and draft strategies to conserve them.
• Where will future parks or recreational areas be located?
• Which forests can be conserved for forestry, recreation or wildlife habitats?
• Identify locations and routes for agritourism (local fruit, wines, honey, meat, vegetables, crafts).
• Identify areas where scenic views or routes for historic or cultural assets should be protected.
• Explore the extent to which current zoning adequately addresses the county's or region's land assets.
• Where should towns or developments be located in the future?
Step 6: Include strategies in local plans for parks, zoning, comprehensive planning, tourism development or recreational strategies.
Green infrastructure plans can fit into existing city and county planning efforts and can compliment already-identified conservation goals. Following are several examples of how green infrastructure assessments may be utilized:
• Environmental chapters in comprehensive plans and/or to implement existing comp plan goals for resource assessments and conservation
• Park, open space and recreational planning or strategic land acquisition
• Strategies for determining where to zone land for conservation or growth
• Lands for purchase of development rights or transfer of development rights
• Heritage tourism strategies and viewshed protection
• Urban tree canopy surveys and management
• Transportation planning for roads and multi-modal planning
• Targeting land for conservation easement programs
• Protection of at risk or endangered species, such as the Delmarva Fox Squirrel
• New ordinance development (stream buffers, water protection, historic landscape overlays)
• Rezoning decision basis either for upzoning or downzoning
• Conserving forest cover to protect surface water quality and supply, mitigate stormwater runoff, and facilitate the infiltration of water into groundwater aquifers.
Of course, green infrastructure is not limited to "natural" or pristine areas. Green infrastructure planning is often needed because of the challenges in seeking to add grey infrastructure and buildings while not obliterating the green. In already developed areas, green assets can be reconnected through new corridors. Green infrastructure also can be restored by turning a brownfield into a forested site.
In cities we map the urban forest canopy, habitat patches, wetlands and other natural features and seek opportunities to reconnect the landscape.
To learn more about urban planning see our Healthy Green Cities page.