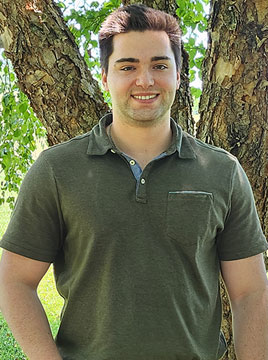 Christian Schluter, GIS Landscape Planner
Christian supports the GIC's mapping and land planning work and provides technical assistance to local governments, regional planning agencies, communities, land trusts and conservation groups. He is currently supporting GIC's statewide green infrastructure strategy for South Carolina, mapping urban tree canopy for multiple cities, towns and counties and developing communication tools such as story maps and web maps.
Born in Virginia, Christian moved to Massachusetts as a child and grew up in a small town north of Boston. One of his first summer jobs, which he started at age 14, put him knee-deep into the salt marsh abutting his family's backyard working on a habitat restoration project. From that point on, he knew he would pursue a career in environmental conservation.
Christian's first post-college job was as a Mapping Technician for the Maponics branch of Pitney Bowes where he worked with the Schools Team. He subsequently worked in the GIS department of the South Carolina Adjutant General's office as an Environmental GIS Analyst where he pursued his love of nature, assisting with bird-banding, trail delineation, endangered species monitoring, and related work at Fort Jackson's McCrady Training Center. During the summer of 2021 he served as a Directorate Fellow with the US Fish and Wildlife Service where he utilized data collected on Palmyra Atoll (a Pacific Remote Island), to perform a suitability analysis for the new introduction of the critically endangered Guam Kingfisher.
Christian received a BS in Geography from Salem State University in 2018 and earned his Master's Degree at the University of Michigan in Environment and Sustainability with a specialization in Geospatial Data Science. His Master's project used machine learning to classify the street and forest trees of Ann Arbor, Michigan, down to the level of species. Christian is an avid reader whose hobbies include kayaking, snowboarding, weightlifting, and cooking. He has always felt drawn to the state of his birth and is thrilled to have returned to Virginia to work and live.