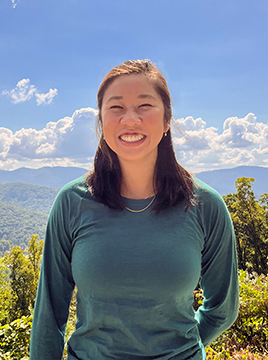 Jessica Huang, Community Forestry Planner, VA
Jessica is the community planner for GIC's Virginia work with a special emphasis on enhancing the resilience and equity of urban forests in Virginia. Her experience in community engagement, tree planting management, and landscape design support her work as advocate for the protection and growth of our urban green infrastructure. Collaborating closely with local governments and community groups, she helps them identify the significance and values of urban forests and devises strategic plans to conserve and expand them.
Jessica returned to GIC in 2023 after previously serving as GIC's Community Landscape Design Associate as a graduate student where she honed her expertise in sustainable landscape planning. She also previously served in AmeriCorps as a Tree Equity Coordinator with the City of Portland, Oregon, focused on implementing environmental equity outreach and education programming.
Jessica holds a master's degree in landscape architecture from the University of Virginia, where her project team received an ASLA honors award for their research titled Built on Thawing Ice: Socio-Ecological Design in a Warming Arctic City (Utiqiagvik, Alaska). She earned her B.A. degree in Environmental Studies with a Certificate in Social Innovation and Entrepreneurship at Dickinson College. While at Dickinson, she also conducted extensive research on community resiliency- from comprehensive qualitative research in Nepal on climate change and human security to a Grocery Store Feasibility Study in a food desert in Carlisle, PA's Northside neighborhood.
Beyond her professional pursuits, Jessica enjoys exploring new places outdoors with her Chesapeake Bay Retriever, Poppy.