Molly Henry, Community Forestr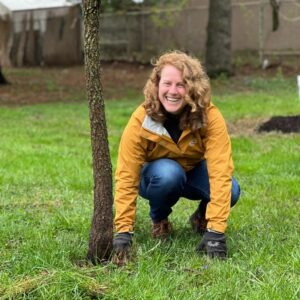 y Planner, RI
Molly Henry works closely with municipalities and community members to assist them in understanding and achieving their urban forestry goals. She coordinates the GIC's Trees4RI! Project in which she helps communities map and manage urban forests, create planting strategies and plans and re-green RI cities and towns. Molly has a strong passion for community-led and equity driven engagement processes and will bring that lens to her work in Rhode Island. She also believes that urban forestry is a powerful platform to hold space for critical community conversations to catalyze local action for climate resiliency and adaptation planning.
Molly has over 10 years of nonprofit service leadership experience in a range of topics including urban forestry, active transportation, housing, food security and community development. She is excited to return to place-based work in Rhode Island after her tenure at American Forests where she engaged stakeholders to launch that nation's first Tree Equity Score Analyzer in Rhode Island and assisted in the national roll out of Tree Equity Score. As Director of Climate and Health at American Forests, she oversaw the national urban tree planting program and collaborated with the Northern Institute of Applied Climate Science and other scientists on tree species vulnerability assessments and technical reports for integrating climate adaptation actions to optimize urban forests and human health.
Molly resides Pawtucket, Rhode Island where she is active in her community. She has a B.S. in Environmental Planning and Design and a certificate in Urban Planning from Rutgers University. She also has a certificate in Permaculture Design and studies and teaches herbalism across the New England region. In her free time, Molly enjoys volunteering with local land-based projects and farms and spending time outdoors with her husband and friends.