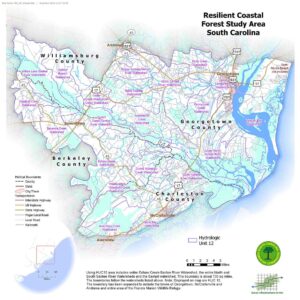 Coastal forests are important ecological, historical and cultural habitat that are imperiled by a wide range of threats that can impact their abundance, distribution, composition and intactness. Coastal forests are at risk from unprecedented challenges such as sea-level rise and climate change, but many of the U.S.'s coastal areas are experiencing high urban growth rates leading to forest clearing to make room for new housing and industry. Weather-related threats such as hurricanes, flooding and wildlife are increasing in intensity and frequency as global temperatures increase. Increasing global temperatures also influence the distribution and life cycles of plants, animals, pests and diseases causing unforeseen impacts to coastal forest quality. Even some widespread climate solutions to address greenhouse gas emissions, such as development of utility-scale solar energy, may conflict with coastal forests as land is sought for new solar farms.
The pressures facing coastal forests make it imperative that federal, state and local governments, nonprofits, universities, businesses, forest landowners and community members be informed about what is at stake and what could be lost
This pilot study was designed to create a landscape-scale conservation planning process unique to coastal forests of the southeast United States. The pilot study includes an inventory of coastal forest resources and assets, an analysis of the benefits these forests provide, an evaluation of the various threats and their level of risk to coastal forests, engagement of local and state stakeholders about these threats, prioritization of existing forests and the development of management strategies to mitigate or adapt to future impacts.
Learn more on our Resilient Coastal Forests page